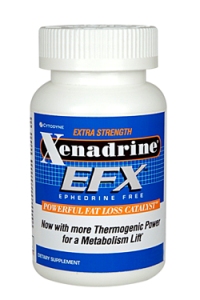 Weight loss formulas are all the rage, especially  for busy people who want to start losing weight without having to go through an exercise routine or strict diet. Xenadrine is one such weight loss formula that promises quick weight loss. But  how effective is Xenadrine, and is it safe?
What Is It?
Xenadrine is a weight loss drug that is marketed as a nutritional supplement. Its main ingredient is ephedrine, an extract from the ephedra plant which speeds up metabolism and should lead to the breakdown of fats as a source of energy. Ephedrine is also known to suppress appetite. There are also new forms of Xenadrine that are marketed as ephedrine-free.
Who Makes It?
Xenadrine is manufactured by Cytodyne Technologies, which is based in New Jersey. The drug itself gained some infamy in the late 1990's, when a woman who had been taking Xenadrine crashed her car into two teens, causing their deaths. She was judged as not guilty due to mental illness, in particular, psychosis which her defense lawyers claimed had been caused by taking Xenadrine.
Is It Effective For Weight Loss?
Xenadrine gains the most following from body builders, who use a version of it that is specifically designed to meet the protein and nutrient needs of body builders, while providing them with calories for exercise. However, there is no clinical research to back up many of the health claims put forward. Even the official website of Xenadrine is not working, so there is no complete information provided on the product.
Xenadrine does not work on its own: it provides a boost of energy and can speed up metabolism in order to make exercise more efficient. Drinking Xenadrine alone will not result in weight loss or fat burning. What Xenadrine promises to do is to raise the body's energy level so that it will want to engage  in exercise.
Side Effects
Ephedrine acts like an amphetamine on the body by increasing the body's energy levels. It does so by increasing the blood pressure and heart rate, which can be dangerous for people with heart conditions or who suffer from high blood pressure. The use of ephedrine has already been linked to heart attacks and strokes, and, according to public records, has resulted in over 80 deaths in the years 1993-2000.
Ephedrine can also alter the mind, so Xenadrine should not be used by those who are at risk for mental illness, as well as those who are taking medication to treat mental illness. Some reviewers also complain about stomach pains following Xenadrine. Others have reported headaches, increased sweating, and therefore increased thirst after a workout.
Results
Some reviewers have reported losing 4-5 pounds a month while taking Xenadrine and engaging in exercise. This routine was supported by a balanced diet that was free from sugars, processed foods, and fats. Reviewers claim that the Xenadrine supplement does work as long as it is taken with the warnings in mind, and with a balanced diet and a lot of exercise.
Other Reviews
Customers have complained about how much less effective the new, ephedra-free version of Xenadrine is. Other customers complain about frequent  headaches and crashing, but customers have also recommended that these side effects can be avoided by drinking plenty of water, not starving, eating better quality food, and exercising using the energy boost given by the pill.