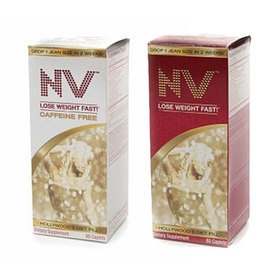 Weight loss can be difficult if you are  working at the same time. It's no  surprise that there is no shortage of Get Skinny Quick schemes, from  crash diets to diet pills. One such diet pill is NV weight loss, which promises that you will lose 5 lbs in 2 weeks. But how effective is NV Weight loss, and is it safe?
Overview
The NV (short for "Envy") Weight Loss is a pill that is endorsed by celebrities and has gone through two incarnations before it reached its current incarnation. The new, reformulated, package redesigned NV is designed to work over two weeks and should allow you to lose 5 lbs with just 6 tablets a  day.

How It Works
The NV Weight Loss formula should be taken twice a day, at three caplets each: the first 3 caplets are taken along with breakfast in the morning; and the next 3 caplets are taken six hours later in the afternoon, with a snack. Each set of three tablets is consumed with an 8 oz glass water. People with caffeine sensitivities are advised to take only a caplet at the beginning, while continuously building their dosage.

Six caplets is the maximum dosage per day, and the NV system should not be used on its own; it has to be complemented with lower calorie consumption as well as regular exercise. The newest NV Clinical formula consists of antioxidants, as well as fruit extracts that have been shown in some clinical studies to suppress the appetite, speed up metabolism, and raise the body's energy levels in order to encourage exercise which, in turn, should lead to more fat loss.

Manufacturer
NV Clinical and WellNX Life Sciences are behind the NV Weight Loss System. NV Clinical also has appetite suppressant sprinkles, which can be sprinkled over food before a meal. There is hardly any information available on the location of the company.

Active Ingredients
NV Weight Loss contains Indian Sphaeranthus, a plant that grows in India and which has several dietary as well as medicinal uses. These include laxative effects, but it can also increase one's appetite. NV Weight Loss also contains mangosteen rind, which has no proven weight loss effects yet, but which has promising anti-cancer properties. NV Weight Loss also contains turmeric to aid in digestion; goji, pomegranate, bilberry, grape extract, cranberry extract, and litchi, for antioxidants and some weight loss effects; and caffeine, for an energy boost.

Side Effects
As with other caffeine-aided diet pills, NV Weight Loss pills can cause nausea and jitters. The individual ingredients can also cause allergy in some cases.

Price
There is a 30-day money back guarantee on the NV Weight Loss pills. They cost around $40 a bottle. The pills are available on NV Clinical's main website, but you can usually get them cheaper from Amazon.
Effectiveness
According to the main NV website, the weight loss pills have undergone clinical studies, which have shown positive results. The studies showed that there was significant weight loss in those who took the pills while undergoing a regimen of mild exercise and caloric intake of fewer than 2000 kcal a day. However, they are not FDA approved.

Reviews
There are good ratings for the new NV Weight Loss formula on non-NV Clinical sites, but there are no explanatory reviews. There are good reviews for the old formulation, which was discontinued by NV Clinical following  complaints from customers who felt jittery and nauseated after taking the pill. Bottom-line is you can do better.